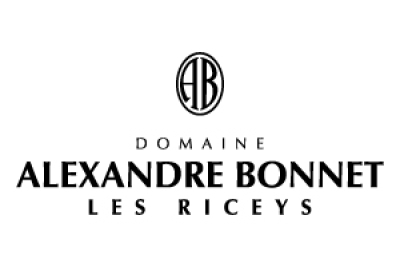 Champagne Alexandre Bonnet
138, rue Général de Gaulle
10340 Les Riceys France
+33 3 25 29 30 93
Contact email
Champagne Alexandre Bonnet
House
Alexandre Bonnet is a House of Tradition which possesses today a wineyard of about 46 hectares on the exceptional "Terroir des Riceys".

A targeted commercial export developpment strategy allows to devote the necessary financial and human resources to a durable and large implantation on a zone, thanks to the help and the company of its commercial partners.
A modern a completly integrated production tool, poeple attached to its history, allow the Maison Alexandre Bonnet to propose a large range of Champagnes with caractristic styles, sacralising the Pinot Noir. "The diversity of the parcel's origins of our grapes, a rigorous selection at harvesting, a splitting of the musts during pressing allow us to obtain the whole scale of our cuvées. Our constant aim is to faconnate irreproachable quality wines", said Alain pailley, our cellar master since 1985.

The universe of Alexandre Bonnet Champagnes in some keywords: A house: tradition, modernity, professionalism, service, reactivity. A wineyard: exceptional, parcelled, pinot noir . Wines: festive, generous, fruited. Men: faithful, attached, implicated. Ambitions: excellency, recognition, developpment.
Wines
The Cuvée Grande Réserve is a creamy, long and tasty champagne. Assembling: 85 % PN, 15 % C, basis harvest 2015 with 53 % assembling 2014/2013, dosage 8 g.

The Cuvée Blanc de Noirs is wide, warm-hearted and most expressiv. Assembling: 100 % PN, basis harvest 2015 with 50 % assembling 2014/2013/2009 dosage 9 g.

The cuvée Perle Rosé is really bewitching with a nice freshness and a notable length. Assembling: 90 % PN basis harvest 2015 and 10 % PN in red, dosage 9 g.

Our very special Blanc de Blancs, cuvée Harmonie de Blanc is a blend of 50 % Chardonnay and 50 % Pinot Blanc this vintage 2014 is surprising by its intense lemony freshness and its generous bouquet of white flower and exotic fruits.
Attendees to Champagne Lounge
Champagne Lounge 2018
Champagne Lounge 2019
Champagne Lounge 2020
Champagne Lounge Asia Hong Kong 2017
ALCOHOL ABUSE IS DANGEROUS FOR HEALTH, CONSUME WITH MODERATION.