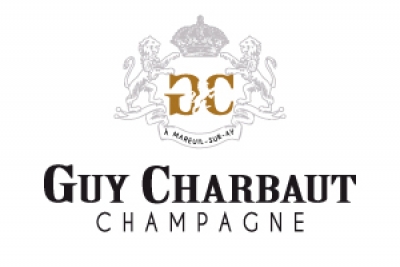 Champagne Guy Charbaut
12 rue du Pont
51160 Mareuil-sur-Aÿ France
+33 3 26 52 60 59
www.champagne-guy-charbaut.com
Contact email
Champagne Guy Charbaut
Vallee de la Marne, Montagne de Reims
House
The story begins in 1936, when the grandfather André bought his first land of vines in Mareuil-sur-Aÿ. The family vineyard was born, distinctive thanks to the inclusion of some of the best villages of Champagne. In 1995, Guy carried on the tradition and shared his ancestor's passion with his son Xavier - who is known as the third generation of the House's winegrowers.
Nowadays, we are still located in Mareuil-sur-Aÿ ; Xavier runs the House with his wife Nathalie and our vineyard covers around seven terroirs.
Wines
Champagne Guy Charbaut is devoted to elaborate traditional and elegant Champagne wines. We value long-aged (between 36 to 144 months on lees), clean-cut and gourmet wines. Respecting the fruit is our moto and this results of a constant watch over on our seven Champagne terroirs (mainly classified as Premier Cru vineyards). Consequently, we are certified with both HVE (High Environmental Value) label and the Sustainable Viticulture in Champagne label.
Attendees to Champagne Lounge
Champagne Lounge 2018
Champagne Lounge 2019
Champagne Lounge 2020
ALCOHOL ABUSE IS DANGEROUS FOR HEALTH, CONSUME WITH MODERATION.